DETERMINATION THE EFFECT OF FEEDING ON THE MILK PRODUCTIVITY OF THE ZAANEN BREED OF GOATS BRED IN THE AKMOLA REGION
Keywords:
Zaanen goat breed, feed, feeding, productivity, milk productivity, goat's milk, chemical composition
Abstract
The article presents the results of studies to study the effect of the composition of the feed ration on the milk productivity of goats of the Zaanen breed, bred in the Akmola region.Traditional and modified feeding ration of goats were studied, as well as the milk productivity of goats of experimental groups was studied for comparison. The initial study began with the study of the composition of the feed. It was found that the nutritional value of the feed used for feeding dairy goats on the farm corresponds to the norm. In the study conducted by us, the feeding of the control group was fed with traditional feed grown on farms, and the goats of the experimental group were fed with a new ration, i.e. a modified composition. As a result, the variety of feed composition has increased and the nutritional value of feed has increased. The average milk yield of goats in the control group averaged 660 liters, and in the experimental group it was 700 liters, and, accordingly, the difference was 40 liters. At the same time, there was an increase in the fat content of the milk of goats of the experimental group by 0.39% y. Based on the results of the study, we can say that the milk productivity of goats bred in the conditions of the Akmola region can be increased using the feeding ration compiled by us, i.e. with the inclusion of local vegetation in the composition of the feeding ration.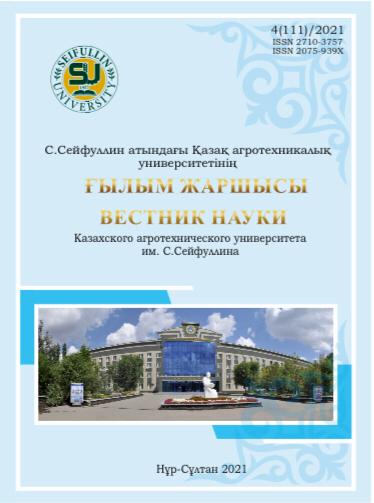 Downloads
Section
Agricultural sciences Part 1