APPLICATION OF AN ENZYME-LINKED IMMUNOSORBENT ASSAY AND VISUAL DIAGNOSTICS FOR EVALUATING THE RESISTANCE OF VARIOUS POTATO VARIETIES (Solanum tuberosum L.) TO POTATO VIRUS Y DAMAGE
Keywords:
resistance, potato virus Y, potato varieties, breeding lines, visual diagnostics, enzyme-linked immunosorbent assay.
Abstract
The competitiveness of domestic potato varieties due to the uncharacterized resistance to potato viruses, in contrast to varieties of foreign selection leaves much to be desired. In this regard, the aim of this study was to study the resistance of various potato varieties to PVY by ELISA and visual assessment. As a result of the research, the authors studied 50 varieties of potatoes (14 varieties of foreign and 36 Kazakhstan breeding, including 11 promising breeding lines). According to the results of a phenotypic assessment of samples of Kazakhstan breeding, the varieties Aksor, Zhanaysan, Pamyati Konaeva, Kostanaiskie Novosti, Artem, Vid-1, Valeriy
and 15 c 7P41 x Dobro possess extreme resistance to PVY. The susceptible samples included Akzhar, Alaya zarya, Dunyasha, Courant-1 and lines 62.211.108.5 with Tamasha x Yagodny-19s, 10.28 Lazar x Alai Zarya, 2-94-06, 1-98-02. Varieties Vid2, Tustep, Tokhtar, Udovitsky, Mechta Krasavina, Yagodny-19 and lines 32-07-01 and 12-07-03 are classified as low-susceptible samples. Variety Ilyin is classified as a tolerant type of resistance. Breeding lines 53 sc 52-99, 4-08-02, 27-10-03, 9-07-12, 32-07-01, 15-08-03 and varieties Nerli, Miras, Ulan and Alliance are objects for further molecular genetic studies for the presence of DNA markers of virus
resistance. It was established that the foreign varieties Rakoustoychivy, Nikulinsky, Vdohnovenie, Seedling of the Polet variety have an extreme type of resistance to PVY, the remaining 10 foreign varieties: Xisen 6, Artemis, Nevsky, Gala, Vineta, Soraya, Timo Hankkijan, Symphony, Impala, Pacific are susceptible to PVY.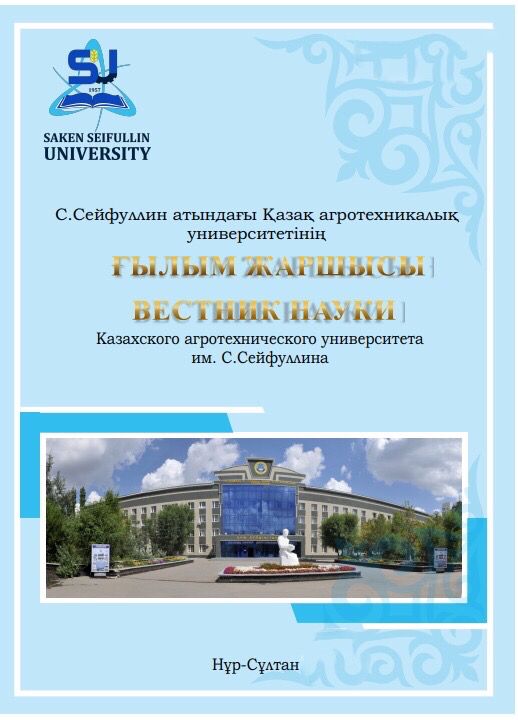 Downloads
Section
Agricultural sciences Part 1